Cui Jie | "Common Ground: UCCA 15th Anniversary Patrons Collection Exhibition" @ UCCA Center for Contemporary Art
Antenna Space is pleased to announce that the artist Cui Jie participates in the group exhibition Common Ground: UCCA 15th Anniversary Patrons Collection Exhibition. The exhibition opens on April 16, 2022 and will last until August 14, 2022.
Curated by members of the UCCA curatorial team from the extensive collections of members of the UCCA Foundation Council, the exhibition showcases nearly 100 works by 51 Chinese and international artists/groups that reflect recent trends in contemporary art. Divided into five sections—"The Fluid Landscape," "Epiphany of the Individual," "Whose Tradition," "Images and Forgetting," and "Rethinking the Conceptual"—"Common Ground" seeks to situate these works within the historical contexts of their making and the current narratives of contemporary art, while opening up new lines of inquiry.
The opening section, "The Fluid Landscape," curated by Ara Qiu, looks at landscape as a dynamic medium. The landscape has long been portrayed in art as an object endowed with aesthetic significance, and continues to evolve in meaning to this day. From the reconstruction of natural landscapes on a universal or atmospheric scale—as in the works by artist such as Cui Jie, Jake Longstreth, Liu Xiaodong, Liu Wei, Zhang Enli, and Zhao Yao—to bird's-eye views of man-made megastructures and the depiction of inner landscapes shaped by the symbolic projection of emotions, the works in this section explore how the significance of landscapes is constantly shifting as they become enmeshed with our cultural and social constructs. In viewing these works, viewers might come to ask, might curiosity and self-reflection grant us access to a beautiful and secluded clearing of our own?
Turning towards the interior, "Epiphany of the Individual," curated by Yan Fang, focuses on affect and spirituality within artworks, featuring works by artists representing different countries and eras including Qiu Xiaofei, Jia Aili, William Kentridge, Ma Qiusha, and Yu Hong. These pieces take off from the artists' respective historical backgrounds, cultural contexts, and individual experiences, conveying their concerns and aspirations for the fate of humankind. Collectively, the works in this section pose the question: Can art once again taken up a seemingly ancient responsibility of helping people to, through concrete experiences and emotions, trace out, reread, and spiritually transcend the progression of history folded within complex temporalities?
The next section, "Whose Tradition" curated by Neil Zhang, features works by artists caught in the gap between globalization and cultural specificity. As the development of contemporary art paralleled the rise of globalization and postcolonialism, artists in this section such as Liang Yuanwei, Ji Dachun, Hiroshi Sugimoto, Akira Yamaguchi, Shi Xinji, and Sun Xun reflect on the ostensibly binary opposition between the classical and the contemporary through the form and content of their works, while interrogating whose tradition is ultimately at stake in the struggle and pursuit of cultural identity.
Likewise in a critical look at the present, "Images and Forgetting," curated by Bian Ka, assembles works by artists including Beeple, Li Songsong, Shi Chong, Yang Fudong, Zhang Ding, and Zhang Xiaogang. Under markedly divergent circumstances from the past, today, images are shaped by the trends of globalization and financialization and authenticated by encryption. This section centers on the primacy of images to examine the concepts of "new" and "old" in images, as well as the meaning of images as they become complicated by human memories and knowledge. What new meanings have been imputed upon artists and images along with the development of our times and changes in our knowledge of the world?
Finally, "Rethinking the Conceptual," curated by Luan Shixuan, returns to a discussion of the art of the concept itself. Since the first wave of conceptual art in America in the late 1960s, contemporary art has undergone a shift in its forms, styles, and media. Through the works of artists such as Dahn Vo, Barbara Kruger, Song Dong, Shu Qun, Qu Shanzhuan, and Wang Guangyi, this section studies the rich lineage of conceptual art across eras, regions, and cultures to explore the subtle tensions within this field, surveying the various creative strategies and development of conceptual art.
Participating artists: Doug Aitken, Danielle Orchard, Tony Oursler, Stephan Balkenhol, Beeple, Chen Wenji, Cui Jie, Hao Jingfang & Wang Lingjie, Danh Vo, Hoo Mojong, Hu Xiaoyuan, Ji Dachun, Jia Aili, Anne Collier, Barbara Kruger, William Kentridge, Jake Longstreth, Li Songsong, Liang Yuanwei, Liu Xiaodong, Liu Wei, Liu Wei, Liu Ye, Ma Qiusha, Victor Man, Giuseppe Penone, Hilary Pecis, Qiu Xiaofei, Wilhelm Sasnal, Hiroshi Sugimoto, Akira Yamaguchi, Shi Chong, Shi Xinji, Shu Qun, Song Dong, Sun Xun, Rirkrit Tiravanija, Cy Twombly, Wang Guangyi, Wang Jianwei, Wang Qiang, Wu Shanzhuan, Wu Shanzhuan & Inga Svala Thórsdóttir, Yang Fudong, Yang Xinguang, Yu Hong, Yu Ji, Zhang Enli, Zhang Ding, Zhang Xiaogang, Zhao Yao
Courtesy UCCA Center for Contemporary Art, photo: Sun Shi.
Installation Views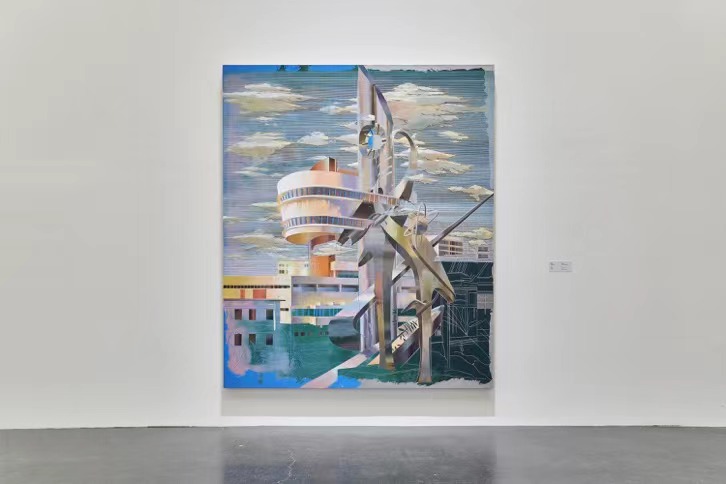 Artists