Art Basel Hong Kong 2021
May 19 – May 23, 2021
Hong Kong Convention & Exhibition Centre
Booth No.1D04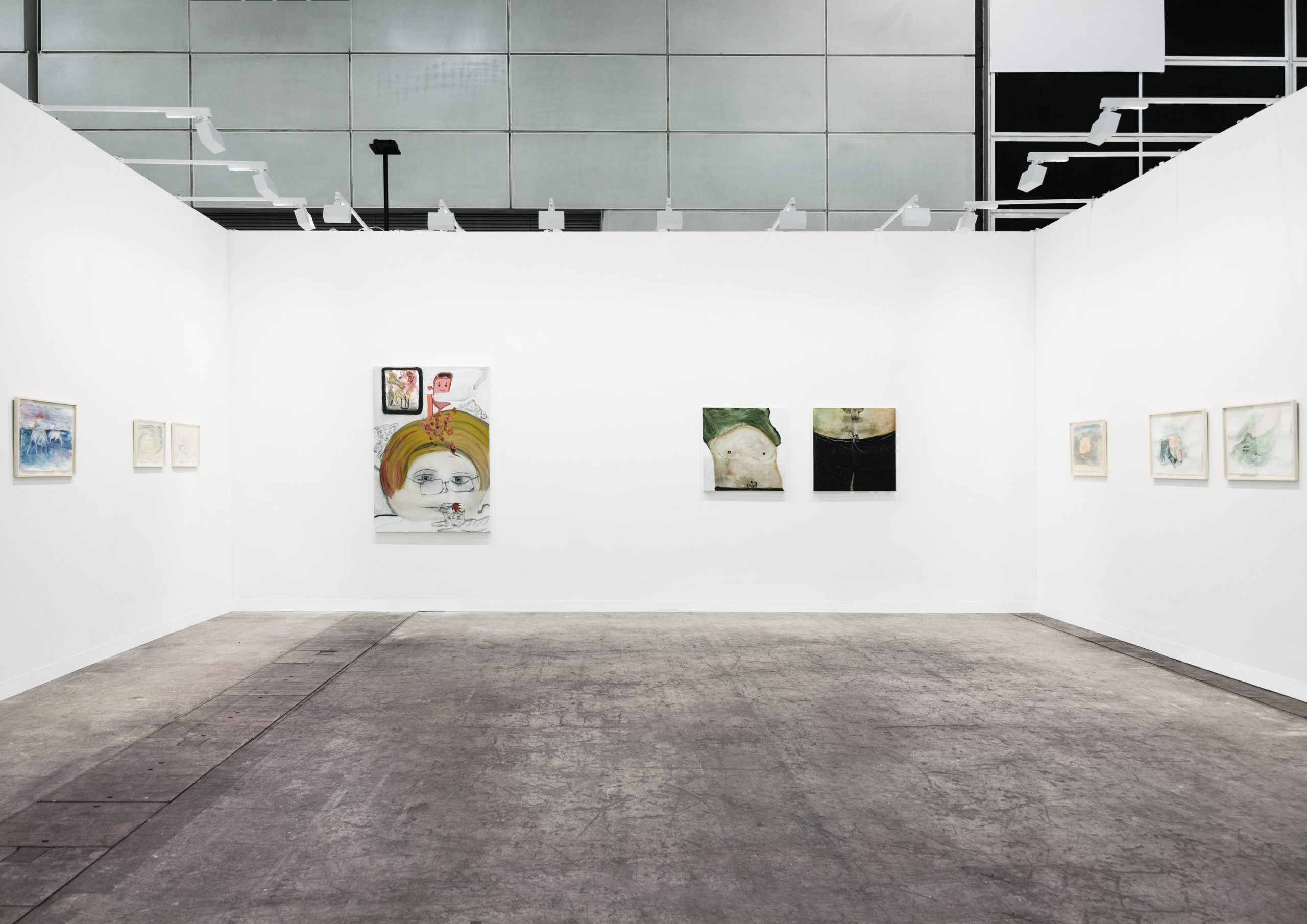 On the occasion of Art Basel Hong Kong 2021, Galerie Balice Hertling and Antenna Space are proud to present new works by Xinyi Cheng and Owen Fu at Booth No.1D04.
Widely known as a painter of desiring bodies—together or alone, in amorous entanglements or simply cutting each other's hair—Xinyi Cheng has recently dedicated more of her practice to drawing. Presented here for the first time, these six works on paper make use of smaller scales and simpler materials that reveal a more intimate dimension of Cheng's artistic hand and heart. Here, the artist pairs down to iwa-enogu pigment on paper that is raw, textured, and still with a few loose ends or rough edges. These works are not concerned with perfection. Instead they revere the vulnerability of the handmade, the wash of emotion tied to a private memory. Indeed the very field of memory in these works seems to include the human as well as the nonhuman : animals, landscapes, and even the drawings themselves, several of which reprise details from earlier paintings.
Recently the subject of a solo show at Balice Hertling, Owen Fu makes works that push the boundaries of what we recognize as the figurative. Alternating between densely saturated tones and sheer or coarse patches of oil paint—often within the same composition—the artist demonstrates a technical dexterity that blends styles and textures. Amidst these works there lurk a number of hidden faces and other charms, alternately revealing and concealing themselves. There is a comical element to these moments of recognition, when the viewer identifies with a form that has just slid into focus from prior inanimacy. When the human body is depicted, it is done so in cropped sections, thus playing with the contours of figuration. Fu's paintings ask us not to take ourselves too seriously, not to guard anything too preciously. If these scenes of the in-between are felt as awkward moments, it is because they illuminate what we might not want to let ourselves see : existence in its everydayness, winking with figments of our imagination.
As a pair, both Cheng and Fu work from drawing and painting—in different and equally distinct styles—to explore the soft edges of figuration. Mutually interested in questioning the human form and its traces, these works commune with one another through a shared wonder of intimate worlds.
–
Xinyi Cheng(b. 1989, Wuhan, China) currently lives and works in Paris. In 2012, Cheng graduated from Academy of Arts & Design, Tsinghua University, with a BA in Sculpture. In 2014, she participated in the Artist Residency program at Skowhegan, Maine. From 2016 to 2017, she participated in the Rijksakademie Residency in Netherland. In Cheng's artistic practice, reflecting upon people's life and playing with internal layers in the background, she carefully constructs scenes of interactions and intimacies. Those scenes mirror the characters' inner world and further create a sensual experience for the viewers. In 2019, Cheng won the Baloise Art Prize 2019 of Art Basel.
Owen Fu (born 1988, Guilin, China) lives and works in Los Angeles, US. He earned two BA degrees, in philosophy from Stony Brook University and in art from the School of the Art institute of Chicago, before going on to complete an MFA at ArtCenter College of Design. Recent solo shows include Mine Project (2020, Hong Kong) and O-Town House (2020, Los Angeles). He has also been given online presentations with Gallery Platform LA (2020) and David Zwirner Platform: Los Angeles (2020). The artist also participated in the group show "Gennariello (part II)" at Balice Hertling (2020, Paris).
Artists