Art Basel Hong Kong 2023
March 21 – March 25, 2022
Hong Kong Convention & Exhibition Centre
Booth No.3C04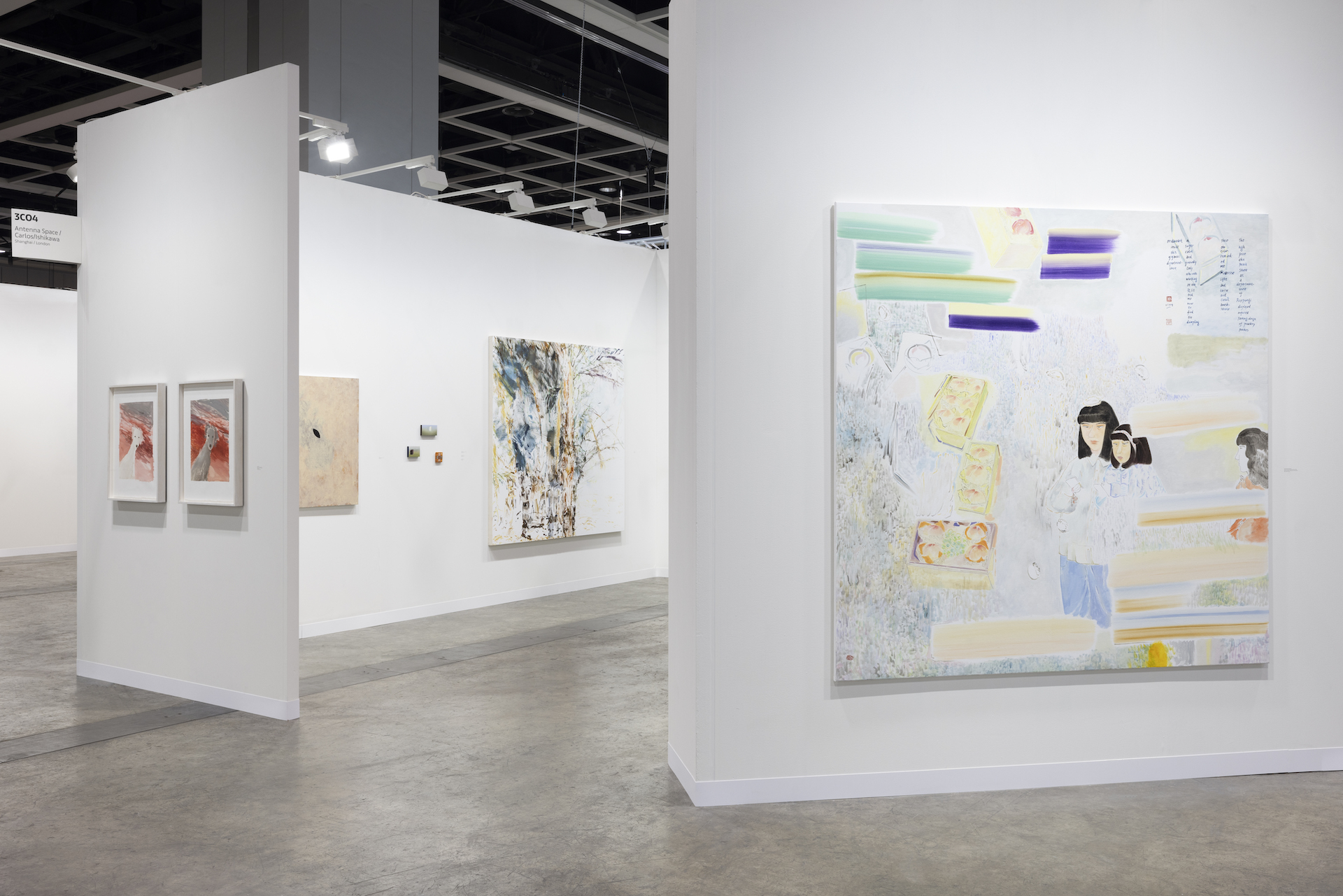 Antenna Space is delighted to announce our participation in Art Basel Hong Kong 2023 at booth 3C04. The exhibition will feature eight artists in collaboration with Carlos/Ishikawa, including Evelyn Taocheng Wang (represented by both), Alexandra Noel, Cong, Cheng Xinyi, Owen Fu, Zhou Siwei (of Antenna Space), Bendt Eyckermans, and Issy Wood (of Carlos/Ishikawa).
Despite the similar visual sensuality of ink and brushstrokes, the four artists — Evelyn Taocheng Wang, Cong, Cheng Xinyi, and Owen Fu — differ in their focus and style of expression. Evelyn Taocheng Wang continues her emphasis on and fusion of cultural differences, feminist issues, cosmetics and beauty, as well as individual identity and literary discourse. Her cartoon self-portrait gives the work a witty experience and individual perspective.
The unrestrained brushstroke of Cong reveals the power of wildness. The overlapping colors convey the texture of tree barks, which also resemble reeds and weeds, bringing out the vigorous vitality and love of life. The dog is a one of the more recent motifs in Xinyi Cheng's work. The monotype leaves the occasionality of pigments and water intermingling in a controlled image, mirroring the feeling that everyone sees themselves and experiences intimate emotions in the dog.
Owen Fu recorded his impressions of his home in Los Angeles in the mind when living in different, unfamiliar hotel rooms during the journey. Each creature, bonsai and thing details the concept of "home" in diverse scenes through a faint layer of ink. Owen Fu's series thus form a connecting link between the preceding and the following.
Alexandra Noel's new works spotlight scenes from ordinary life. There are no flowers in the painting, yet the sprinkling cans and butterfly make people imagine a colorful and vibrant garden outside the picture. Zhou Siwei concentrates more on a glance through a certain appearance. Logos of Apple are soaked in bubble tea, with a pearl – or an Apple logo – "piercing" the calm surface, implicating consumerism in pop contexts.