Frieze Art Fair Los Angeles
2023.02.16 – 2023.02.19
Santa Monica Airport
Booth D4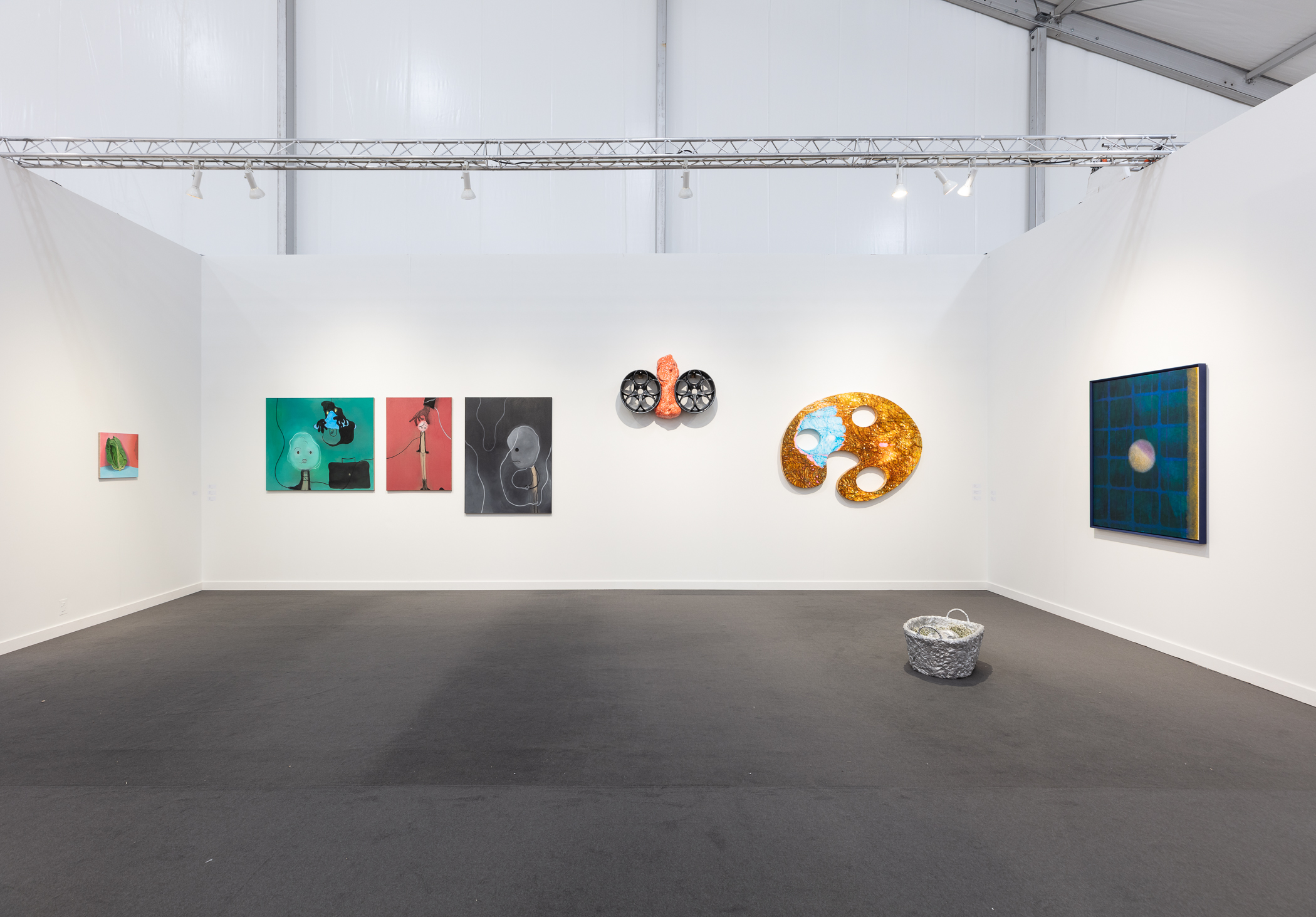 Antenna Space is delighted to announce our participation in Frieze LA 2023, booth D4. We will be presenting six represented artists, including Allison Katz, Guan Xiao, Owen Fu, Stanislava Kovalcikova, Yu Honglei, and Zhou Siwei. Our presentation will inquire into the artists' self-perception and creative contexts.
The cabbage is among the most long-lasting and distinctive motifs in Allison Katz's oeuvre. She began the series with a painting in 2013. In each iteration, a single cabbage is painted from observation, to the right of which her partner's shadowy profile peers in. In her body of work, symbols such as the cabbage appear as part of a playful network of ideas and references that is full of unanswered riddles, non sequiturs, and idiosyncratic puns. The veins of the cabbage leaves eerily resemble those of the human body, and the plant's overall shape approximates hearts or heads – in some ways, the cabbage is an avatar of the subject of a portrait, but equally, it could just be a still life of a vegetable. Apart from dipping into the long history of cabbages in art, literature, and daily life – where it has been conceived of as an icon of the sublime, pure, feminine, nourishing, yet ordinary – Katz instills her paintings with personal mythologies and her own brand of subjective humor. With these seemingly light-hearted techniques, she manages to address complex issues like selfhood and identity in a nuanced and profound manner.
Sculpture and palette figure significantly in Guan Xiao's body of work, branching out into many series and genres. Exploring the intersection of culture and vision, Guan Xiao juxtaposes commonalities and differences in material and medium from different perspectives, blending intellectualism into romance, finally leading people into the realm of mutual observation and self-examination with artworks. She showcases the influence of culture, her education, and her artistic concept when selecting materials. She uses ceramics, car rims, and poly-putty to achieve a collision of craftsmanship and modern technology. By naming Strawberry Eyes after the color of the work's most fragile part – the ceramic nose – but simultaneously referring to its overall shape, a haiku emerges from the interplay of title, brand, birthmarks, and surface, with brushstrokes and concave-convex returning the observer's gaze to the painterly gestures left by Guan Xiao.
Owen Fu traces hidden and shifting emotions in his multi-layered and dense self-portraits. His works present three states in a relationship, which can be seen as a triptych with a blood-vessel-like thread twisting through. The Chinese titles hint to the language of the Song-Dynasty woman poet Li Qingzhao. From green to red and then to gray, an echoing of love and affections grow from strong to dissipate, to gloomy and finally return to dull. Fu explores inward to tap into emotions, feelings and desires, finding a healing and comforting corner for lonely souls. When the bulb that symbolizes light, warmth and hope is dimmed by a monster of darkness, bypassing the mundane work and labor, the individual's dried up desires fall into the endless gray of the night.
Grotesque is the most intuitive feeling of Stanislava Kovalcikova's artworks. Kovalcikova attempts to challenge notions of gender, skin color, identity, social convention and power relations via fable-like human and animal characters that operate outside social norms. Hedonistic sexuality and consumerist taunts flood the painting, juxtaposed with its medieval and religious painting style. This alienation and stigmatization echoes the sense of distortion, mockery and tragicomic allegory, presenting a enigmatic vibe for visitors to introspection unconsciously.
Yu Honglei's sculpture takes inspiration from purely indicative glyphs and symbols, his observation of reality based on human perception and the human body, which then produces images by transforming what's seen and felt into reality. He goes on to explore the evolving shapes of human cognition in a visual culture heavily dominated by digitalization and computation. For him, the opposite of material reality isn't conceptuality or human thought, but abstraction. Abstraction doesn't correspond to concreteness in Yu Honglei's sense, but an image or visual that can still be called reality. Hence, they are an image reality in correspondence or parallel to the material reality. It's not only asking the viewers to observe, but also more for their own presence in this relationship.
The praise and ridicule of technology occupy an influential portion of Zhou Siwei's works. The "5G Wind" series is filled with the wit of Chinese poetry. The green willow in the breeze is a symbol of romance and hope in Chinese literature, while the pollen-like yellow spots and the dusts seem to carry aroma and evoke a synesthetic sensation. In contrast to his often Chinese-seeming brushstrokes, Solar Panel exhibits more of Zhou's techniques. Lackluster colors create a frosted, transparent texture in the orderly painting, as if pulled from circuit board to pixel point, then to the surface of a solar panel.