Art Basel Hong Kong 2019
March 27 – March 31, 2019
Exhibition Centre, Hong Kong
Booth No.3C04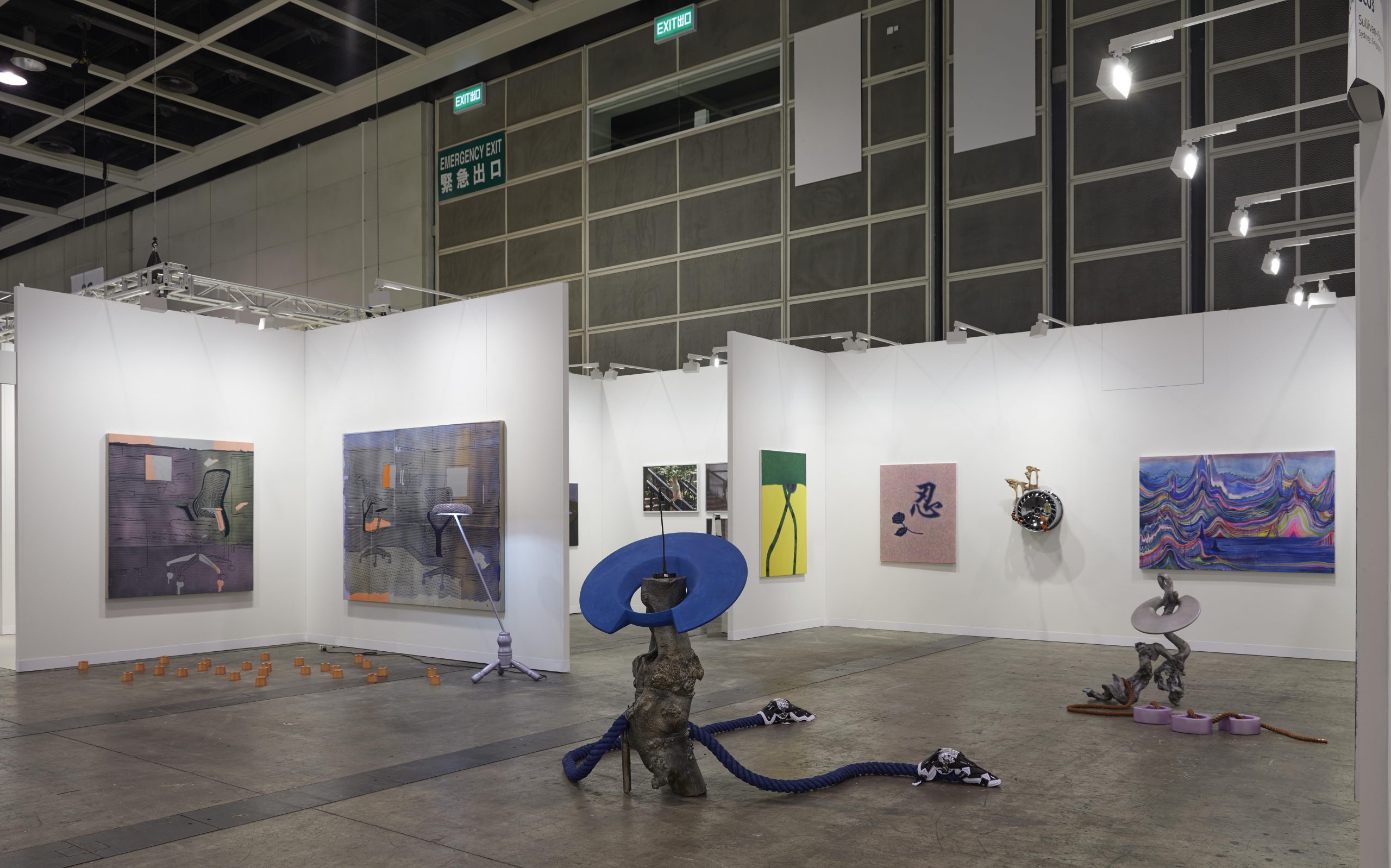 Antenna Space is pleased to announce our participation in 2019 Art Basel Hong Kong. We will be presenting works by artist Allison Katz, Cui Jie, Cheng Xinyi, Dora Budor, Guan Xiao, Han Bing, Wang Shang, Yu Honglei,  Zhou Siwei and Zhang Yexing @ Booth No: 3C04.
Allison Katz (b. Montreal, Canada, 1980), lives and works in London, UK.  In her solo exhibition Muse with a Short Fuse just took place in Antenna Space, Katz expands on the durational element inherent to painting's imagery and context by exploring one of its longest-standing myths, that of inspiration as wrought by a Muse. A classic inversion sets the stage, as Katz's partner Philip poses, but never directly – he might appear as a shadow beside cabbage or via the surrogate of a cock in a series ongoing since 2011.
Cui Jie, graduated from China Academy of Art in2006, currently lives and works in Shanghai. Cui Jie's solo exhibition To make a good chair, unfolds from a unique perspective of Chinese traditional garden landscape. Mainly featuring the new works of paintings and sculptures, Cui's recent creation focuses on the subtle connection between architecture, chair and the human body.
Guan Xiao (b. 1983, Chongqing) studied film at the Communication University of China in Beijing.  In her solo exhibition Products Farming that is taking place in Bonner Kunstverein, Guan presents her new sculpture work that collectively considers the state of contemporary production in relation to the natural world. A series of 6 Root Sculptures refers to the ancient Chinese tradition of carving tree roots. Guan Xiao has described the twisted and gnarled roots as representing the 'perfect object', being both natural, shaped by their chemical composition and environmental conditions and a readymade. These anthropomorphous works employ such root forms to support other sculptural components including parasols, camera tripods, microphones, running shoes, electrical cable and colored rope.
Han Bing, born in 1986, graduated from Parsons the New School with an MFA in NYC, currently lives and works in New York. Han Bing is not overly interested in one particular system of marking or another, but rather in their accidental juxtapositions and coincidences, in finding a kind of spontaneous joy in the most unlikely places. And, rather than reproducing the marks directly or somehow lifting them from their natural environment, Handworks with a particular process of recomposition to flatten the hierarchies and structures that exist between them—be they cultural or material—and use them as raw materials from which to produce a Painting, Painting with a capital P, as part of an ongoing dialogue across time and space.
Zhou Siwei,born 1981, Chongqing, China. Graduated from Sichuan Fine Arts Institute with a major in oil painting. Lives and works in Shanghai, China. The images in Zhou Siwei's works are forms of "image beings", or to be more precise, he spares no effort in eliciting the actuality of the images, while circumventing the "imaginative" aspect as much as possible. It became gradually clear for him to choose only non-photographic, non-cinematic images, which are mostly ready-made, everyday shapes and graphics. Designed 'anonymously', these objects and their ubiquity have been stripped of their original context and transformed into some kind of formula of images, some kind of idiom without any specific meaning, and are often merely used as fillers.